What's trending on TikTok for best Halloween decoration & costumes (2022)

Looking to increase your Halloween sales on TikTok? It's important for brands and business owners to stay up to date with the latest TikTok trends for Halloween this year.
Recently, a TikTok influencer @horrorprops uploaded a video of Halloween decorations that accidentally went viral on the platform.
Inspired by the Netflix sci-fi thriller series Stranger Things, @horrorprops has managed to recreate the aerial levitation of the film role Max Mayfield in a video. Surprisingly, the Halloween prop does not have any strings or a structure that could be used as a support, as seen in the video.
As of today, the video has got more than 2.9m views, 1.5m likes and over 20,000 comments on TikTok.
Not only were TikTok users shocked by the cool and realistic model used for Halloween decorations, but even Netflix's official TikTok account was drawn attention and left a comment under the video.
What's more, many users say in the comments section that this is definitely the best Halloween decoration this year.
The hottest Halloween decoration trends on TikTok
Stranger Things is one of the most popular Netflix shows of 2022. After @horrorprops posted the aerial levitation video on TikTok, Halloween decorations inspired by Stranger Things are not only expected to be a popular element during Halloween 2022, but also to kick off the TikTok trend of Halloween consumption in the US this year.
Social media plays an increasingly significant role in consumer behaviour, Halloween, one of the most celebrated festivals around the world, is no exception.
According to the data, the main source of inspiration for Halloween costumes comes from searches (accounting for 36%). Younger consumers, especially those under the age of 25, usually look for Halloween inspiration on TikTok.
On TikTok, the hashtag #halloween has been viewed a staggering 92.2 billion times.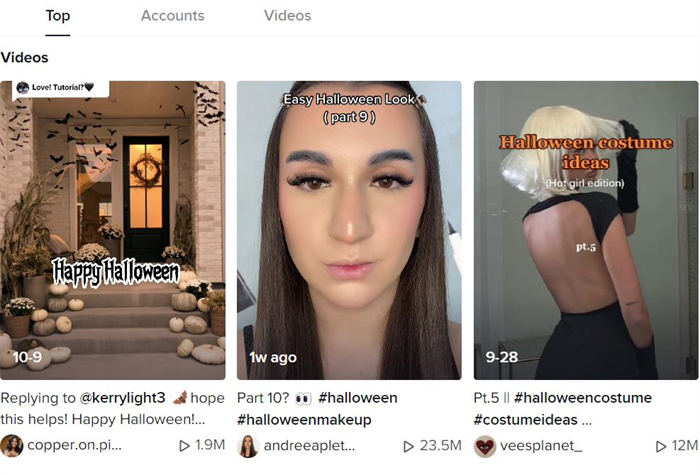 Last year, a spooky Halloween rug with a black and white ghost motif became a top-selling item on TikTok. And this year, this festively decorated rug is also seeing a mini-trend.
The hashtag #ghostrug on TikTok has accumulated over 16 million views so far.

After an influencer named @astoldbymichelle re-posted the video of this ghost rug on TikTok in July this year, it received 1.2 million views and was liked by 132,000 users.
Seen in the comment section, many people have already started ordering this ghost rug online, even though Halloween is still two months away.
we can see that this ghost rug is still a big hit this year.
Apart from the ghost rug, "gothic romantic" Halloween decorations have also been gaining attention from users and is becoming popular on TikTok.
Some time ago, a video posted by TikTok user @Dionthetaurus also went viral unexpectedly. The video, which focuses on spell books, crystal balls, tarot cards and a number of other Victorian Gothic related items, has likewise attracted the interest of many users who have asked for links to purchase them.
Also popular with TikTok users are elements that represent the "dark eterna" theme, with the most anticipated being skeletons, black rose decorations and heart-shaped love potions.
This week, a Halloween candle in the shape of a skeleton went viral on TikTok and has already reached 1.4 million views.

The classic themes of ghost, skull and crossbones are still the dominant trend in terms of accessories. Influenced by the TikTok aesthetic, "dark gothic" and "dark romantic" accessories, inspired by the popular thriller TV series of recent years, are also becoming a sought-after product for some users and have a lot of potential to become a hit this year.
People use these decorations not only for Halloween, but also throughout the year.
Get creepy ideas and Halloween costume trends on TikTok
In its annual survey released earlier this September, the National Retail Federation (NRF) wrote that this year's Halloween sales of adult costumes will be the highest since 2017, and its sales of children's and pet costumes are also expected to reach $1.2 billion and $700 million respectively.

For their Halloween costumes this year, over 2.2 million children plan to dress up as Spider-Man, 1.9 million are planning to dress up as a princess, with another 1.6 million becoming a witch and over 1.3 million going as a ghost. Batman costume is the fifth most popular costume along with other superheroes. 1.2 million children planning to wear it.
In addition, 70 % adults said they were ready for what they would wear this Halloween.
The figures show that over 5.3 million adults plan to dress up as witches, over 1.7 million as vampires, over 1.5 million as ghosts and over 1.4 million as pirates. Around 1.2 million adults plan to wear catsuits on the streets and 1.2 million say they will dress up as Batman.
And the most popular Halloween costumes for pet lovers included pumpkins (accounting for 9%), hot dogs (accounting for 5%), bats (accounting for 4%), bumblebees (accounting for 3%) and witches (accounting for 3%).

These are the official stats, and the discussion about Halloween costumes continues to rage on TikTok.
The trending hashtag #halloweencostumes2022 has got 33.4 million views.
From what we have seen so far, there are several Halloween costume trends on TikTok this year.
Firstly, there was a lot of buzz about plus size Halloween costumes, with 216.7 million views for the hashtag #plussizehalloweencostumes 2022.

Google Trends has also seen a spike in searches in recent months.

This is probably due to the fact that the two years of epidemic has caused most people to appear out of shape, making most consumers pay more attention to the plus size when shopping for Halloween costumes. So it is foreseeable that in 2022, plus size costumes suitable for Halloween wear will be a big trend.
Additionally, the keyword "Halloween costumes for people over 40" on TikTok has also received a high number of views, with over 70 million.

It is also worth mentioning that the "Barbie core", a pink aesthetic that emerged on TikTok this year, has also become a popular trend for Halloween costumes. There are pink pumpkins, pink skeletons and Halloween fan costumes that add adorable theme for the creepy Halloween festive fun.
Wrapping up
Overall, the Halloween market still focuses on costumes, decorations, and pet costumes. And similar to recent years, Halloween enthusiasts are still likely to be shopping early this year. Nearly half of people starting their shopping in September or earlier, so TikTok brands and business owners need to get ready in advance.