What is the most Liked TikTok 2023

TikTok is a social media app released in 2017 and has been gaining popularity. It is a video-sharing platform that allows users to share short videos with others. The most liked TikTok videos are short clips of people doing something exciting or fun. They can range from singing to dancing to just showing off skills such as skateboarding or juggling. To research what is most liked TikTok, we consulted Wikipedia data, and Wikipedia has compiled a list of the most popular TikTok videos. I have shortened the list to the top 10 TikTok videos, and below are the most trending videos; let's find out who they are and what we can learn from them.
Here are the Top 10 TikTok videos of 2023
TikTok is a social media app where users can record 15-second videos of themselves, and they can then share the videos with the TikTok community and watch other people's videos.
Uploader – British Promise Cats
Account – @britishpromise.cats
Likes – 37.3 M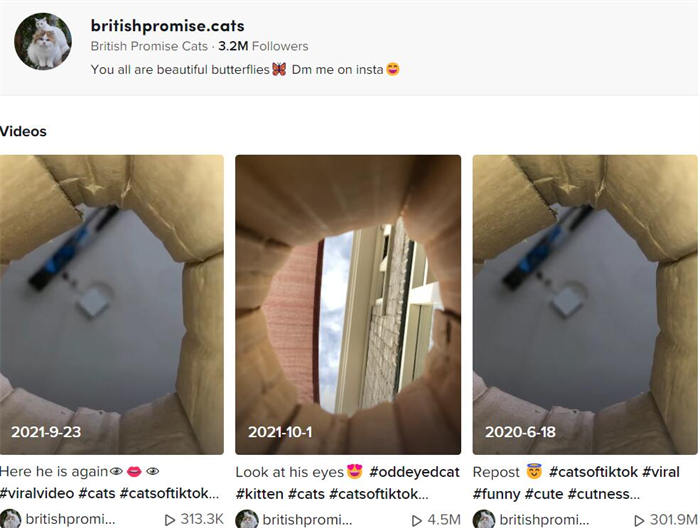 Uploader – Khaby Lame Account – @khaby.lame
Likes – 37.9 M
Top 8 – "Time Warp Scan" filter
Uploader – Billie Eilish
Account – @billieeilish
Likes – 40.3 M
Top 7 – Person barking at dog
Uploader – Adrian Chateau Wiles
Account – @adrianchateau
Likes – 40.5 M
Top 6 – Sang "Suave – El Alfa"
Uploader – MONA
Likes – 41.3 M
Top 5 – Dancing filmed by a drone
Uploader – ToTouchAnEmu
Account – @totouchanemu
Likes – 44.8 M

Top 4 – Lip syncing
Uploader – Nick Luciano
Account – @thenickluciano
Likes – 49.3 M
Top 3 – Drawings of mouths
Uploader – Franek Bielak
Account – @fredziownik_art
Likes – 50.6 M
Top 2 – Dancing in front of bathroom mirror
Uploader – Jamie Big Sorrel Horse
Account – @jamie32bsh
Likes – 51.5 M
Uploader – Bella Poarch
Account – @bellapoarch
Likes – 59.7 M

To this date, Bella Porch has the most liked video. She has the most liked video on YouTube with 59.7 million likes, and almost 100 Million Follows on TikTok. Bella Porch then became famous and published her songs.
Here is what we've learned from the videos:
1. These TikTok users follow the trend.
TikTok videos have become a popular form of online entertainment and a way for people to share moments from their lives. These TikTok users follow the trend by targeting to entertain the audience instead of informing them or sharing knowledge. This trend has gone hand-in-hand with the rise of social media. TikTok reached 80 million users in
November 2017, and more than half of those users were using TikTok daily, according to Business of Apps. Tiktok is one of the most popular video apps, and it is interesting to see its users.
2. Less than 15 seconds in length.
Most of the top 10 TikTok videos have a video length of fewer than 15 seconds. It's been studied that the average attention span has become shorter and shorter these days due to the influence of technology. According to the study, much time is spent watching content on TikTok because it's easy and quick to watch, which also doesn't require much attention. The study says that many people run out of scope on TikTok after watching it for a while.
3. Entertaining TikTok videos.
It is possible to make a video on TikTok that is funny and entertaining. One way users can do this is by using comedy or humor in the video, and this will make the viewer more engaged and more likely to watch the entire video.
There is nothing promotional in their TikTok videos.
Another reason they are top liked TikTok is that they were not trying to sell anything within that video and did not have any advertising coming to the users.
Conclusion: What can you do to get more likes on TikTok
In conclusion, the best ways on how to get more likes are:
Tip 1: To understand the platform's purpose first.
The use of TikTok is mainly for entertainment, as seen in the top 10 TikTok videos, all of which are more comedic than educational. Though there are still videos meant to educate or post tutorials, the most liked TikTok videos are those that entertain the user. This way you can get free Tiktok likes by following TikTok trends.
Tip 2: You can also buy likes or followers, which is not the best recommendation for it can cost a lot and TikTok may punish you if they find out. Though buying likes or followers will result in your number growing faster than it would if it was all done organically.
To learn more about getting more likes on TikTok, read this blog to get more knowledge:
2 Best Tips to Get More Followers on TikTok