15 best examples of link in bio landing page designed by linkr

Creating a catchy and functional link in bio landing page on your Instagram bio and other social media profiles is your perfect opportunity to cross-promote your brand and contents. Better yet, it can help to sell products to your followers.
Linkr is one of the best link in bio tools. It is chosen by millions of Instagram and Tik Tok users, from celebrities to influencers, brands, and small business to build their linktree.
Are you a beginner to Linkr, hoping to build a landing page perfectly suitable for your branding or style? Here we list 15 of the best link in bio examples. Get inspired and design one of your own with ease.
Best examples for fashion influencers / actors / artists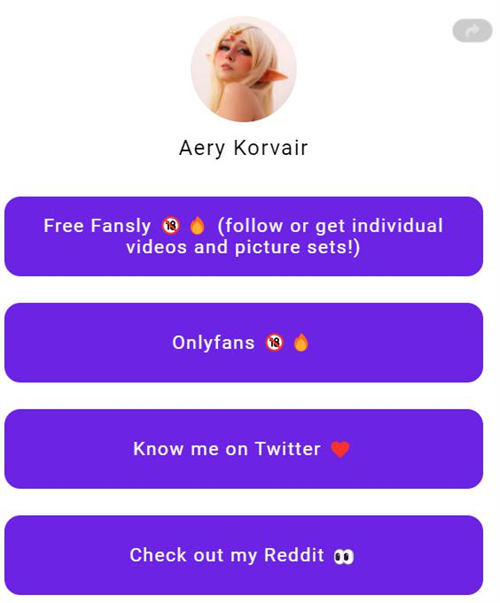 Aery Tiefling is a petite Cosplayer, and has created her account Aery Korvair on Linkr. She picks a template that works great with her spicy content. Her link in bio landing page is cute and classic with customized theme and her sexy profile picture on the top. So, her audience know that she is a Cosplayer at first glance. It's interesting how she uses the Under Eighteen Restricted and on fire stickers to draw attention. These will surely leads clicks to her website, twitter, and Reddit profiles.

If you are an actor, model, or a fashion influencer, Peter Loung's Linkr page is a must-see. It features photos and videos of Peter from various magazines, interviews, films, and other channels. His link in bio page is pretty attrative in terms of a theme — a dark gray gradient that highlights his bio, pictures and videos.

Looking for the best bio in link examples for photographers? We highly recommend ettore_riva's page, in a minimal design theme, with a dreamy background and white buttons. The links at the top point to Ettore Riva's online shop, website, photos & videos from her portfolio, and the places she mark on Instagram as well. All the links are paired with her fabulous photography works, drawing more attention, and clicks too!
Along the bottom, she lists links to her photography friends to cross promote for each other. You may consider this idea if you have friends in the same field.

This is a link in bio page with "support me" functionality. It is a great way to monetize social power and collect payment. Linkr includes this function in the free plan, and doesn't charge any transaction fees, even for free users.
On his page, Stark47Iconic also lists links to his social media profiles like Tik Tok, Snapchat, Facebook, Instagram, Twitter, and letterboxd. It helps to grow followers everywhere and drive traffic.
Best examples for brands / companies / marketers

Neblio company is a secure, distributed POS blockchain platform built for enterprise applications and services. Its page shows a more professional link in bio example for brands, especially those tech firms. Neblio Official has linked to its official site, Facebook, Twitter, Instagram, and YouTube, using the social icons which are available on the Linkr free plan. Moreover, Neblio also has its latest news, technologies, events, webinars, newsletter, like everything on the link in bio page. All are visually appealing with those thumbnails.

Another great link in bio example for brand and business — AutoescuelaApp. This online driving school has their page with a very minimal theme on their feed. It feature a simple white background with blue buttons to perfectly match their branding and logo. There are only five links, directing to their YouTube channel, contacts, website, Instagram and Tik Tok profiles. Besides, it should be noted that AutoescuelaApp also upload their own logo.

MB Translations is probably one of the simplest bio in link landing pages. It has a white background and navy blue buttons to be in line with their branding and logo. There are four social icons linking to their social sites, and only two links pointing to their website homepage and blog page. The landing page makes everything done in a simple and professional way — a practice of their professions.
Best examples for musician influencers

Next, we have a gorgeous linktree example of a musician, Martine Farstad. Her Linkr landing page uses a custom theme with her new release promo photo in the background. You don't see any links. Instead, there are ten icons linking to her social media profiles, and her songs / music videos from Spotify, App Music, Soundcloud, Deezer, YouTube Videos. Sometimes, less is more. And, a single attractive background image is better than all.

Here's one of our favorite bio in link examples of how a musician to build his/her brand name or music lovers share their faves. The _radiopalosanto account fully customizes this beautiful page using Linkr to share a collection of playlists from Spotify. The faint yellow, green and blue makes a natural and healing palette. This accords with the music vibe shared — mostly yoga, deep meditation and transcendence music, namely "Sonic medicine". This account can serve as a great inspiration for musicians to add links to their latest songs, album, and music videos.

Peak Inc. is a band that uses their Linkr page to show their Spotify profile, latest tour, news, EP, songs, music videos, and albums to their fans and followers. Futhermore, they also add the place for tips — a wonderful idea for most influencers and musicians. Drop down the page, there are links driving to Spotify playlists, social media profiles and other places where Peak Inc. music is available.
Best examples for small business

If you're running a small business and look for a free link in bio tool to lead your audience to your online shop, products and latest offers, Agora em Casa shows how to do it effortlessly. Her link in bio landing page on Linkr is simple, straightforward, yet functional enough. She has a bio to tell people what she sell — factory direct original embroidery products from Ibitinga/SP. Icons are used to direct to her shop, Facebook, Instagram, Tik Tok, Messenger, WhatsApp, Phone number, email address, and more.

Josey Sandra uses link in bio landing page designed by Linkr to carry out network marketing and E-commerce business. His Linkr has a fantastic, cool design theme. The background is something like a man looking up at the stars in the dark night. He uses it to link to his social sites, share his ideas and contents, and promote his business. On top of that, he makes a brief video of himself so you can learn more about him.
Best examples for content creators

This linktree example mainly features the hottest stories, news, advice, guides, and tips for fresher to universities. Being the biggest Fresher community in UK, Unifresher uses Linkr effectively to draw attention to their latest contents. They pick the paid pro plan for custom the theme, color, background, front & button style. And, they also add their own brand logo. It is a best link in bio example for those looking to share content — you can add a ton of links on you Instagram / Tic Tok bio.

As a lifestyle community for personal growth and development, ekreator.hr's link in bio page has a colorful look based on blue that matches their philosophy. Better yet, the landing page also reveals a peaceful, comfortable, and vibrant feel. What's cool about ekreator.hr's link page is that they make it a simple version of their website to promote various contents. It includes psychology, spirituality, leadership, business, health & beauty, fit, food, lifestyle and science, in their blogs and portals.

Here we have another linktree example of content creator. They really takes full advantage of Linkr to promote their contents and pages effectively. Rendika Pratama's Linkr page matches his feel as a social media expert. The social icons and links point you straight to his What'sapp, Youtube channel, Instagram, Facebook, Shopee store, and more. And, there is also a video on the bottom to introduce his audience helpful content creating and marketing tips. It is a good way to encourage people more he has to offer.
Final thoughts
Whether you are a big-name celebrity or a small business owner, a link in bio tool for Instagram and TikTok, is a must for you. So you can build yourself/your business a "a brand" with a single landing page.
Perhaps a lot more important than that, you have to make sure your link landing page as enticing as possible. So, you can expect more followers, more traffic, and a higher level of engagement on all social media platforms.
Above we list 15 best link in bio examples that are every effective when when it comes to call to actions. Or you can explore more templates on Linkr.