FAQs – all you need to know about using Linkr

Welcome to Linkr.bio
A: Linkr is the best all-in-one bio link for creators, brands, & influencers. With Linkr.bio, you can create a (or multiple) personalized and easily-customizable landing page that allows you to share and promote your music, video, social media, article, blogs, online store or other websites.
Linkr is an amazing solution for the one-link limit of Instagram bio and helps you to monetize audience, drive traffic and sell products or services. You can select from pre designed themes, layouts, or upload your own image as background to create a page that matches your personality and brand perfectly.
Supercharge your link in bio on Instagram, Tik Tok, Facebook, Twitter, Youtube… More than 1,000,000 social media creators around the world trust Linkr.bio.
Learn more about What is Linkr.
Tip: check here if you want to see examples of Linkr landing page in action.
A: Easy to use
With Linkr that's incredibly easy to use, a mobile optimized landing page can be created within a min, and allows you to connect all your audience across different social platforms like never before.
In-depth analytics
With Link you can get valuable insights including clicks, page views and sales from each link. You can also measure your business objectives with the integration of Google Analytics and Facebook Pixel, no coding required!
Responsive designs
Linkr.bio is highly customizable. You can select from ready-made themes, layouts, and upload your own image/GIF/video as background to create a page that matches your style and branding.
More than a bio link tool
Linkr is also a free QR code generator and an easy website builder.
Compare: Linkr vs Linktree, and 7 best link In bio Instagram tools for 2022, to find out why Linkr is the best link in bio tool for your Instagram.
Account
A: You may have trouble accessing the email associated with your existing Linkr.bio account, don't worry, follow these simple steps:
If you forget the password, please click "Forget your password", we will send a verification email to your inbox to change your password.
If you forget your registered email, please contact Linkr.bio Support directly. It's necessary to provide us your Linkr.bio URL or username.
A: Please click your profile picture in the lower left corner of the page, then you will find the page of "my account". Here you can change these settings:
Username: You can edit your linkr URL as you like. Please note that once modified the username, the older one will be occupied, you can't change it back. And your QR cord will be updated.
Email address: When you want to change the email associated with your linkr account, just click "edit" to change it.
Password: If you have never set your password before, or you don't recall it, please click "edit" to reset your password.
Others: You can also change your language and time zone here.
A: We can't create more than one link using the same email address till now, but we are developing this function these days. please stay tuned!
A: We're sorry that you're not satisfied with our product. We'll work hard on this link in bio tool and bring you a better experience of using. So we hope you can keep using Linkr. Your voice and suggestions are very important to us.
However, if you insist to delete Linkr account, please Click your profile picture in the lower left corner of the page.
Then you will see "more information" on this page, click the button of "view" so that you can delete the account.
General Features
A: When you click "Links", you can
Click the button of " Add Links", start adding links by entering a link title and URL. Many types of links are supported to create on your page. Don't forget to optimize your link after creating it, Let's see what these buttons are for.
:Add a Thumbnail or Icon to this Link.
:Schedule when your links go live
: Pin the link to top
: Highlight your most important links
:Set a link group
:Display the data of the link
Add or delete my social media icons
Linkr.bio supports multiple third-party accounts to log in that can be achieved by adding icons to your page. Let's take the icon of telephone as an example, click the icon of "Add Icons", choose the icon of telephone on the left, then you can edit your telephone number or delete this icon.
Featured video, music and other type of multimedia are supported , just click the button of "Media" and you will find how to add them.
Add a support box to get direct donations from your fans, and we don't charge any fee.
A: It's easy to make your landing page eye-catching, try to click "style", then you will find
Site Details: Here you can edit your profile to tell your story as well as customize your page including browser title, favicon, link groups, share button, featured video.
Design: Free members can change layouts, color schemes, and font cases. Pro members are able to update photos as page background and have access to changing title fonts and removing Linkr.bio logo.
A: Datas show how your links perform, your followers' behavior and information to you, from which you can learn more about them, let's see what kind of analytics is displayed on our dashboard.
This gives you an overall analysis of your Linkr.bio page and it is available to both free and pro users.
This section gives you visual insights on your Views, Clicks, CTR and Avg during different periods.
If you've added social icons to your Linkr.bio page, here you can see what social media accounts your visitors have exactly viewed and clicked.
This block shows your total Views, Clicks, Click Through Rate, and Time to Click, per country for the date range selected.
This block shows your total Views and Time to Click from each referrer. A referrer is where your visitor came from before landing on your Linkr.bio.
This block shows your total Views, Clicks, Click Through Rate, and Time to Click, per device for the date range selected.
If you want to learn more about Statistics, please click here.
A: For free users, you can see the total views and clicks of your "link in bio" landing page.
Total views – it shows how many times your Linkr.bio page has been viewed in a given period of time.
If a visitor lands on your Linkr.bio page once, that will increase 1 view. If the person views your page multiple times, that is counted as multiple times. A person can view your pages many times and that will add up your total views.
Total clicks — when a visitor clicks on one of your links, it is a click. The chart shows the total amount of clicks across all of your links. For example, if a visitor clicks on your 3 different links, that is counted as 3 clicks.
For Pro users, you can also see Avg.CTR, Avg.Time to Click, top 5 most clicked links, social platforms, music, and contacts to give you a better understanding of page traffic. You can also download the report for further analysis.
A: Linkr.bio currently supports tracking pixels (including Google Analytics, Facebook & TikTok Pixel ), Mailchimp, SEO and Deep Linking integrations for PRO users. Let's see how to integrate them here.
A: You can't add two same icons on one link till now, but we are developing this function these days. please stay tuned!
A: Whenever you want to remove or edit your link, just log in to your Linkr.bio account. Better yet, Linkr now allows you to tap any link or content to edit, and drag and drop the link to reorder it.
We are currently not supporting multiple accounts using the same email address. However, you can use Instagram, Facebook accounts and another email address to register different Linkr accounts.
Head to the Linkr registration page and use other signup options to create new Linkr account.
Linkr Subscription & Billing
A: Linkr is free for everyone to add unlimited number of links and create a bio link landing page. However, the free version has relatively limited options compared to the PRO. Please click here to learn more about Linkr PRO. Now we provide a 14-days-free subscription for you to have a try and you can change your plan and cancel your subscription at any time.
Yes, forever free for unlimited links. Just sign up via your email or a social account, then the free plan is activated automatically.
Learn more: all free features are listed here in the plan description.
A: You will get your invoice and receipt at the section of billing, shortly after you pay for Pro and upon every renewal (monthly or annually). Before download your invoice, don't forget to fill in your invoice information.
A: When you start 14-day free trial and your account is debited, email notifications will be sent. You can also click "Billing" to know the details about the current plan.
A: This can be completed through the "Billing" tab of the "Current Plan" section of your dashboard, click "switch plan", then you can change the type of current plan. If you want to cancel your subscription, please click "cancel subscription".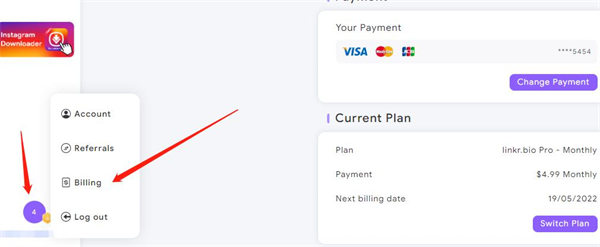 If you cancel subscription when you are in the billing period, you will continue to have access to the plan that you've already paid for, you will not be charged again for your authorized renewal. No refunds are provided for canceling during a subscription period.
A: To update the payment method, please click "Billing" to find the section of "payment", you can change your new payment method here.
A: Drop us an email to hello@linkr.bio or contact us through the online customer service system, telling us the usage scenarios where problems occur as well as a screenshot to let us know your problem accurately. Then we can check and fix it as soon as possible. Thanks for your support!
Troubleshooting
A:
Refresh your inbox as there might be a delay sometimes.
Make sure that you have checked spam, junk emails, promotional and other email folders. If you found the email in theses folders, mark it as 'no spam' to receive the email in your inbox.
Update contact details, check the spelling of your email and consider using an alternative email address.
Check with your I.T or email provider to see if the email is blocked. Depending on how strict your emails are set up, it might be possible that receiving certain emails outside your organization is not allowed.
Visit Linkr.bio to contact our customer service, our live representative will help you with the issue.
A: You may occasionally receive the message saying "Sorry, this page isn't available". Do not worry, it is nothing wrong with your Linkr.bio. Instagram might be checking security status, or preventing you from fabricating your Instagram stats by clicking your own link in bio. It can happen to anytime at random times whether you are Linkr user or not. This error is usually only happening on your device and it is not affecting your followers.
If this is preventing you from checking if your Linkr.bio is working, here are a few suggestions you can try:
Open your Linkr.bio page outside of Instagram like Safari or Google Chrome
If you have multiple Instagram accounts, switch to another and click the Linkr.bio to see if it works.
Ask a friend to visit your profile to check if your Linkr page is working.
Reach out to us and we will test your Linkr.bio for you.
If you have any other questions, feel free to contact our support team.
A: New changes to your Linkr.bio may take up to a few mins to show up in every browser. Your changes need to propagate across our network of server. You may want to check your Linkr page later
A: When you change your Instagram handle, you will still be able to log in with Instagram account. However, your Linkr.bio will not automatically update your new Instagram handle. You need to edit and change profile picture or username on Linkr.bio by yourself.
A: There are some reasons why your links aren't appearing (or disappear) from your Linkr landing page. It can be a browser or app issue, a security error, or it is because you email has not been verified.
When you should encounter this kind of issue, you can contact our support customer team at hello@linkr.bio. We can help you out right away.
How to –
A: Please click "link in bio" on the left sidebar and head for the "Style" section, where you can change your Linkr page profile picture.
You can search for GIFs, Stickers, pick a picture from Gallery, or upload an image.

Linkr allows its Pro subscribers to create more than one website under the same account. It is easy and quick to build another Linkr page!
All you need to do is tapping "+Create or Manage Linkr", and clicking "+Create", then you are given all those ready-made templates. Pick your fave, and claim your URL.

You can also build your third Linkr page.
Multiple website builder feature ensures that you can better mange your business and links, and guide visitors to your contents in a more proper way.
After creating your perfect Linkr page and getting it published, it's time to put your Linkr page out in the world — by putting your Linkr URL on Instagram bio!
Simply log into your Instagram account, tap "edit profile", and add your Linkr URL in the "website box". Save it and you now get a clickable bio link for your Instagram.
Read our blog on How to add multiple links to Instagram bio — free, easy and fast.
Do you also want to put your "link in bio" for TikTok?
To do that, you have to switch your TikTok account to a business account first. And then it is easy. Paste your Linkr URL in the the website field, and Click save. Done!
Read our blog on How to add link to TikTok bio, how to switch to a TikTok business account, plus how to use it to promote your brand!
Linkr QR code generator is free to use.
To make a QR code using Linkr on desktop:
Find "QR Linkr" on the L Sidebar.
Paste the URL of your website.
Pick your favorite template.
Rename your code, and download it to your pc gallery.
Read our blog how to generate QR codes using Linkr on smartphone, or watch a video guide on YouTube.
Linkr Membership Services FAQs
A: Linkr Membership Services are monetization tools for creators by setting up tiers of membership that your audience can choose to join. You can set a monthly price for each tier, and a list of benefits for members.
Linkr Membership Services is available for both Linkr Pro and Free creators:
● 5% platform fee for Linkr Free creators;
● 0% platform fee for Linkr Pro creators.
Withdrawal fees from Payoneer also apply.
For more membership related FAQs learn at here
Still have questions?
Don't hesitate, reach out to hello@linkr.bio. Or an easier way, click here or below icons to join Linkr users community, and get support replies ASAP. We also have ongoing member activities, exciting promotions, and news of the latest updates right here!