How to add link to TikTok bio, plus how to use it to promote your brand!
No any brands or creators would miss the great opportunity to use Tiktok link in bio to drive traffic and promote their online business.
This powerful video-sharing platform has been the world's NO.2 social media for influencing marketing, and has pushed out our long-for feature — all users now can add a link to their Tiktok bios. This is absolutely good news, especially for anyone who has a Linkr account and wish to use the link to direct your Tiktok followers to other socials and external contents. However, the feature has an important qualification — you just have to create a business account.
This article outlines the steps to create a business account, and how to add link to TikTok bio for both iOS and Android devices. We're also sharing the ways to make best use of the link in bio to grow business with more clicks and conversations.
What is a link? – What is a TikTok bio? – How should you decide whether to link or not?
To add a link to your accounts or websites on your TikTok bio is a great way to share on the app and grow your social media presence. This post tells you how to add link to tiktok bio, including linking from already-established accounts.
Links, also known as hyperlinks, are web design elements connecting two or more pieces of information. Link in bio is used frequently on social media apps such as TikTok, allowing users to navigate to other sites.
TikTok Bio is where you provide an overview of yourself and what you do and share them with friends. You can add links to your bio on TikTok to connect it with other social media accounts.
It is essential to decide whether you want to link or not before adding links to your bio because it may make it difficult for viewers who are not following you on the account that you linked.
Importance of an Active Social Media Presence in Your Industry
A social media presence is an integral part of any business. It is the first impression that a potentialcustomer gets, and it can make or break a company. With so many social media platforms out there, it is crucial to find the ones that are best for your company and focus on those
You might be wondering:
• Is it free to add my social media links to my TikTok bio?
You can search for the "free trial" option and sign up for a free trial. If you like it, you can purchase a paid version of the application with more features and offers more opportunities than the free version.
• Is there a limit to the number of social media accounts I can link?
Nearly all popular linking platforms provide an unlimited number of links on your bio, even if you're using their free version.You can be active in many different social media options, and most link in bio platforms allow unlimited links on your bio link page.
• What are the requirements to add a link to my TikTok bio?
To add links to your TikTok bio, you will need to meet the following requirements.
a. You must have a verified account and be at least four days old.
b. Your account cannot have any other links in the bio.
c. Links need to be relevant to the reader and should not be affiliate links or advertise your content.
d. Furthermore, you must have at least 1000 followers, and the account should be for a Tiktok business.
How to add a link to your TikTok bio
There's really rare probability that you can add a hyperlink to your TikTok bio with a personal account. But a few people have claimed that they can do it. So you can go check the section of "Edit profile" in your account to see if there's a website option for entering a URL.
There's no need to get depressed if you are not the one lucky fellow in a million. After all, it is not a tall order to switch your personal account to a business account. Actually, it is very simple. And, you can always switch it back.
Here's the two easy steps you can switch to a business account and put a link to your TikTok profile:
Step 1, Switch to a TikTok business account
Open your TikTok, and tap the "Profile".
Tap the three lines menu button on the right corner of the screen, to head over the "Settings and Privacy page".
Select "Manage account" and then "Switch to Business Account".
You now come a page with info to be offered for a business account, hit "Next", to select a category that fits for your business, and hit "Next" again.
Easily done. You have make yourself a business account.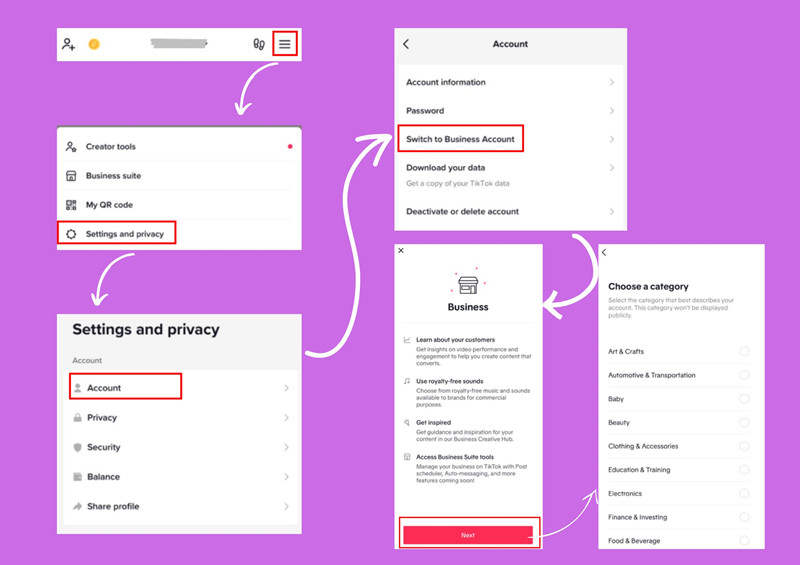 Step 2, Add a link to bio
Go back to your profile page and click on "Edit profile".
Find the website field and type in / paste the URL of your website, or any link. You are suggested to add a "link in bio" created by using Linkr with unlimited links to your Tiktok profile.
Click save. Congrats, now you have a clickable link for TikTok bio!

Why can't i put a link in my TikTok bio?
That said, it's very easy to add a link, such as your website to your Tiktok bio, and furthermore, to drive traffic and sales from this app. However, there are still some people who just can't manage it even after they create a business account.
A personal account is the most common cause for not being able to add link to TikTok bio. You can simply switch into a business account following the steps above. If you hope to keep it personal and casual, you can still add your Instagram and YouTube to your profile.
Don't use a desktop, instead, use a phone (both iOS and Android devices can do).
The feature doesn't apply for you. If so, unfortunately, you can't do anything about it, but wait.
How to make the best of your TikTok Link in Bio for your business
For influencers and brands, knowing TikTok trends or tricks are not enough. Now that you get a business account, wherein you get to add a "powerful link in bio" to drum up business. By saying powerful, I mean it is more than a single link to a single website. So here we come with Linkr's link in bio tool for TikTok and other socials, to allow you to build a linktree with unlimited number of links that direct your TikTok audience to anything your promote.
More ideas for your link in bio:
Add all your social profiles, from Instagram, to Facebook, YouTube, Twitter, and more
Link to your online store to display your product items
Link to your portfolio of work, which can be your photography works, recipe, or anything
Share your latest blog post
Show off your hot photos
Promote your new songs or music videos
Add more call-to-action with email, What'sApp, phone, and more
Access to analytics for insight into the performance of your links

Add a link in bio landing page to your TikTok using Linkr.bio
Eager to create a link in bio for your TikTok profile? Join Linkr free today to get ready for reaching traffic spikes — with only a mini clickable website! Here's how to do it!
Step 1, Sign up on Linkr.bio. Visit Linkr.bio here, sign in with an email address and password. Linkr also provide other ways to sign in, from your Google, Facebook, or TikTok account, or your Apple ID. Now you have your Linkr.bio account go alive!
Step 2, Custom your URL. This is the one you are going to put to your TikTok bio. Simply go into your account to change your username, to turn the automatically generated URL into a personalized one.

Step 3, Build a linktree by adding multiple links. Type in the URL of any link, with a title and an image finish (if you want). Add your link one by one, and rearrange them later. For your faves, you can highlight them or pink to the top.

Step 4, add social icons to link to your other socials, contacts or and music/video sources.
Step 5, customize your Linkr page, by picking a theme, a layout you prefer, adding your profile picture and profile name. You can update from a free plan to a paid plan for extend customization, to add your brand logo, and for more custom features. Know Linkr pricing.
Step 6, share the link to your TikTok bio, so that your followers can click though the link and view more of your contents.

Yoo-Hoo! You now have a mini website linking all your contents and pages. Simply add the link to your TikTok bio to drive traffic and grow business! Keep reading if you also wish to know how to add multiple links to Instagram.
Keep reading: