Get started with Linkr: guide to create a link in bio for Instragram

Welcome to linkr community! If you want to add more than one link in bio for Instagram, TikTok and all social media profiles, or you just need a site to house all your links and attract more attention and clicks, you are at the right place.
Linkr is a free solution for the limit of Instagram profile link, and makes it easy and fast to share with your followers your websites, music, videos, recipes, blog posts, social channels, and other prioritized contents. It is also a great way to manage your online store with specially crafted templates to display your product items and promotions.
This article will guide you through some basic steps to create an Insta bio link landing page, and use your linkr to build multiple profiles and bio sites. We cannot wait to see your Linkr design that shows your personality and brand.
Now, let's get started!
Create a Linkr account for free
Navigate to linkr official website, and then click 'sign up':
Choose login type. You can directly log in with Google, Facebook, Apple or TikTok account. Or, type in email address and password to register.
Once you successfully log in, you will see a quick start to set up your link in bio page and QR code generator.
Step 1: Pick a default theme. Currently there are 10+ free themes for you to choose. Select one and you can change to other themes later under 'Style' in your Linkr dashboard. Pro users can choose from 150+ themes for your contents or business, including animation themes.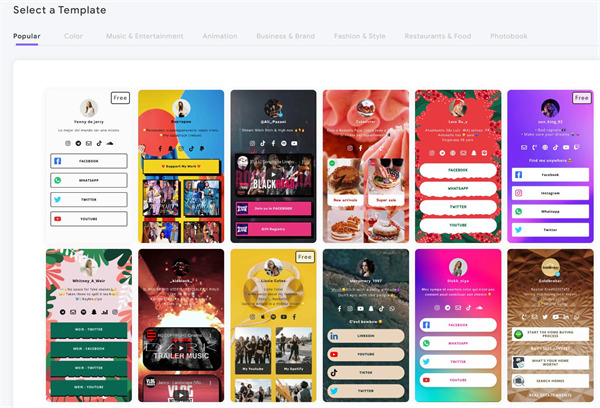 Step 2: Pick a name and claim URL. Simply type in any name that hasn't been used by other Linkr users. You can change your name and url any time later.


Step 3: Your bio link is alive! And you can now share it to your Instagram bio, TikTok, Facebook, Twitter, YouTube, and anywhere you wish.

Congrats! Now you have successfully set your linkr up!
How to add links and social icons on your bio link landing page
Ready to explore linkr? After you successfully log in, you will see everything you need for your link bio in the dashboard:
Links: where you can add and manage links and social icons
Style: where you can edit profile info, change for another theme, and customize your Insta bio link landing page
Statistics: see detailed data of your links and social icons for your analysis
Integration: where you can integrate analytical tools and other functions
Add links
Go to 'Links' and tap on'+Add New Items', and start adding links by entering a link title and URL. You can add as many links as you need for free. Make the most of the functions by inserting thumbnail pictures, and using 'Highlight' or 'Pin to the top' functions.

If you are a Pro member, you are also able to schedule links for a specific period time in the future >> Get to know all Benefits of Linkr Pro plan
Add social icons
By the same token, you can add social icons to your page. Linkr supports multiple third-party accounts to log in that can be achieved by adding icons to your page. When your audiences click an icon, it will take them to your social profile or contact app immediately. It helps your audiences to reach out to you easily, and cross promote social platforms.

Also, if you are editing using desktop, you will see a real-time interface that allows you to visualize all the changes immediately. Managing your linkr is just as simple as that.
How to update avatar and add a bio description
Projects come and go, but they can be live on through linkr. As you constantly update each link URL or icon, you may also want to update avatar to match your content and brand. This can be easily achieved by editing 'style'.
Under 'style' –find 'Profile', here you can type in your profile title, write a short description in the bio for your Linkr page, and update your profile picture very easily. Search for GIFs and Stickers, browse gallery or upload your own image for profile. >> Head for Linkr FAQ for everything you need to know about using Linkr

How to Customize the appearance your Linkr page
As you scroll down 'Style', there are other features to help you customize your link in bio landing page, to give your followers unique and on brand experience.
Layout
All members can change mobile/desktop layouts with four default layouts. The perfect layout can help display your contents and products properly.
Background Customization (Pro only)
Pro members can customize the background of your Linkr page. Upload an image or video, and select a solid color or gradient color.

Cards Customization (Pro only)
Here, you can customize the buttons of your bio link page, as well as the button color, button title color, and button title font.

Advanced Customization (Pro only)
Pro members are also able to change title fonts, title color, icon color, capitalize fonts, lock share button, remove linkr brand logo and add your own logo.
Make your linkr appearance eye-catching and compatible to your content and business, which will help you drive more traffic and sales. Linkr makes it easy for you to manage links with different types of layouts and themes. No matter you are a content creator or business owner, customizing your page appearance will play an important role in growing audience.
How to share the link in bio for your Instagram profile and all socials
Linkr is a great place to tell your audience more about your personality or brand. Once you created a linkr page you can use it to your social platforms to build a solid social presence and grow your audience. You could use it on:
LinkedIn: link to your portfolio, previous work, and social profiles
Twitter: guide your audience to follow you across other platforms
Your Tinder or Bumble profile
TikTok, Snapchat or Twitch bio link
Link on your WhatsApp status
Your email signature
Your business card
Posters and advertising
On your Github bio
On your Twitch stream
In your Soundcloud sidebar
So now, how do you add your linkr page to your social bio? Take Instagram for example, if you go to 'Edit Profile' in Instagram, you will see a few tabs that allow you to introduce yourself:
Profile picture: make sure that it is high-quality and attention grabbing
Name: 30 characters, included in search
Username: make it easy and recognizable
Bio: tell your audiences some details about your brand or business
Website box: a clickable URL under your bio description where your Linkr.bio link should go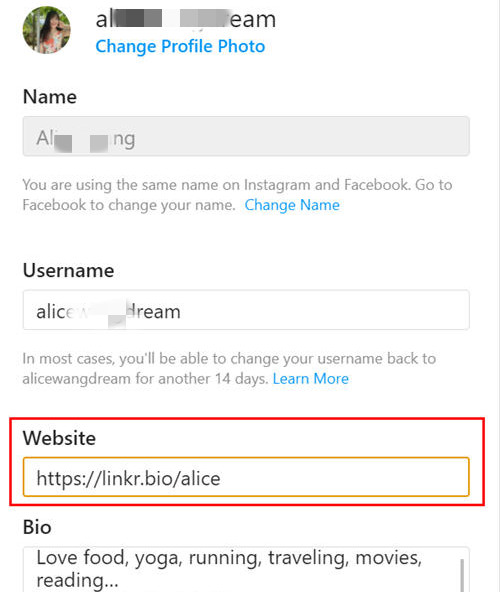 Follow the same logic, you can add your linkr page to any social media by adding the URL to your profile. This helps you build a solid social presence as your audiences are able to find you in other social platforms through linkr.
3 examples of Instagram link in bio landing page designed by Linkr users
So you've mastered the way to create a link in bio using Linkr, but still have no idea how to design your Linkr page. Here are some great examples how people use their link in bio to promote business/contents, which will surely inspire you.

Perfect for: brand, company, organizer
Why is good:
The page shows a professional link in bio example for brands, with brand name for profile title, brand logo for profile picture, and a brief bio to introduce the platform and its service.
They pin the most important links, such as the new release, on the top of the page, to show what's new.
Each link goes with a thumbnail, creating an intuitive branding experience for visitors.
It includes links to all important pages, social platforms, and contacts, and embed a YouTube Video to better introduce itself.

Perfect for: blogger & writer
Why is good:
This bio link landing page is very well-designed. The fonts, white & purple colors and all images keep with the brand identity.
It features own logo for the site, as well as for each picture, to build the brand presence.
Its visitors can easily find the latest blogs/articles.

Perfect for: all influencers and content creators
Why is good:
The page is simple with only social icons/links, but tell clearly who it is this page owner.
It shows satty yorozuya's beautiful cosplay photos, attracting her audience to her social platforms.
The page layout, together with the background color make the featured pictures stand out.
Want more inspiration? Browse Linkr Gallery.
Linkr provides diverse options of links including music, website, or even videos. Your linkr page doesn't have to be used for commercial purposes. It can just show your friends a few songs you love to listen to recently and promote communication and interaction among people!
Linkr team is consistently updating more functions and features to give you better experience and more powerful "link in bio", so always stay tuned!
Keep reading: