9 best Linktree alternatives (free) of 2022 for your link in bio
Welcome to the round-up of the best Linktree alternatives in 2022, based on the choices of millions of Instagram and TikTok users.
With the option of adding multiple links to Instagram bio via a single URL, you can see why link in bio tools like Linktree are so popular among social media influencers, brands and creators. But if you look for Linktree alternatives for your Instagram bio, then what are the best? If what you need is a cheaper one, free Linktree alternatives, or those that create outstanding Instagram bio website landing page, this is the post for you.
We've rounded up the best Linktree alternatives for different budget, needs and styles, from free to premium, so there must be at least one for you. All these IG link tools come with essential functionality to put unlimited links in Instagram profile, while the themes and layouts also ensure a beautiful page. What's more, some of the best bio link tools listed below also features powerful analytics.
Linktree Alternatives
1. Linkr
2. Shorby
3. Lnk.bio
4. Campsite
5. Linkin.Bio
6. Carrd
7. Milkshake
8. Tap Bio
9. Pallyy
What is Linktree
Linktree refers to the first link-in-bio tool founded by Alex Zaccaria, Anthony Zaccaria, and Nick Humphreys in Melbourne, Australia, in 2016.
The tool is a solution to the one link problem of Instagram and TikTok, and allows users to share all key link destinations, including websites, music, videos, e-commerce, blog posts, recipe, product pages, to their social media profiles.
However, Linktree isn't the only game in town. Today, there are several link in bio tools that make best alternatives to Linkree. Check them out, and find a better option to meet your personal needs, and know how to make a linktree, cheaper.
For better comparisons, you will want to know Linktree pricing:
It has a free plan with limited options, and the paid plan that costs $9/month to $24/month.
The best Linktree alternatives for your Instagram bio
Read on the full list for reviews and pricing.
1. Linkr – arguably the best and free Linktree alternative overall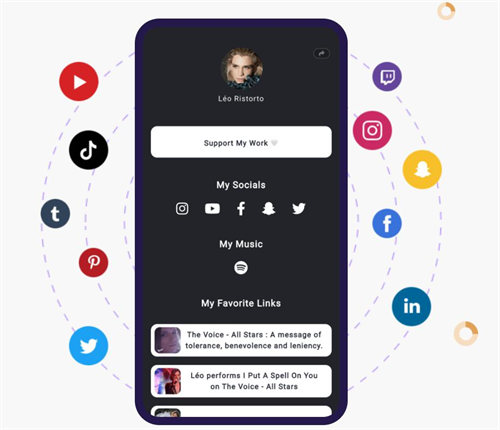 In addition to being one of the best link in bio tools that let you create a landing page to store all your links into one-page site, Link.bio offers an outstanding do-it-all alternative to those looking to website builder and page builder without requiring any design or website building knowledge.
Simple and clean interface, easy to use and manage, mobile-optimized landing page, over 100 popular themes, various comfy and customization options, an effective drag-and-drop builder… on almost every metric, Linkr is a best Linktree alternative for TikTok and Instagram.
Best of all, Linkr is cheaper than Linktree. And it has a completely forever free version that makes it one of the best free Linktree alternatives. >> Compare Linkr vs Linktree
There's also the option of traffic and views track of each link with Linkr analytics and email list supported with Mailchimp integration.
Key features:
Create a landing page with eye-catching links and branded domain URL.
Create one link in bio for all your contents on Instagram and TikTok profiles.
Easy and quick page building and customization with a few clicks.
Also suitable for you to create an online store.
Customizable background image, front, button, card, branding.
Integrate with Facebook Pixel, TikTok Pixel, Mailchimp and Google analytics
Payment links to Paypal and other gateway, and Linkr charage 0 transaction fee.
QR code for sharing
Pricing:
Free plan: USD $0/month, with custom domain, unlimited links, and all vital features
Pro plan: $4.99/month, for enhanced customization and analytics options
Pro annual: $50/year, saving 17%
2. Shorby – a versatile Linktree alternative for big-name influencers and teams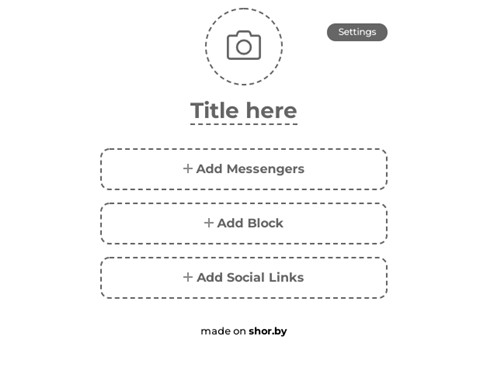 Shorby often comes to mind when you think of the best Linktree alternatives. And it is worthy. There are a wide range of essential and enhanced features that help to combine all your content into one "smart page", create messenger links, and showcase dynamic feed from Shopify categories, YouTube videos, Apple podcasts, and more.
However, Shorby doesn't offer a free plan, and is the most expensive bio link tool on the list. It is a better fit for agencies and big-time influencers.
Key features:
Messenger integration encourage fans to connect with influencers directly via WhatsApp, Facebook Messenger, email, and Snapchat.
Dynamic content feed automatically picks blog posts, Shopify/Etsyproducts, YouTube videos, and more.
Pricing:
A free 5-day trial
Rocket: $12/month for five smart pages
Pro: $24/monthfor 50 pages
Agency: $82/month for 250 pages
3. Lnk.bio – a simple and effective Linktree alternative

Lnk.bio offer a simple and easy way to make a linktree that inserts more than one link in bio for your Instagram. There are several different layouts to display your links with images, making your landing page look visually appealing, and match perfectly with Instagram's UI design.
While it takes only two minutes to build a landing page with Lnk.bio, there is only on website page template, meaning you are not able customize for it.
Key features:
Unlimited links for Instagram bio without having to change the link again.
Cross-promote all channels
More than 90 social, music, video, and contact icons.
Pricing:
Free version: random URL
Monthly: $0.99/month
Mini One-Time: $9.99 /lifetime
Unique One-Time: $24.99/lifetime
4. Campsite.bio – a stylish and free Linktree alternative

Campsite is a great value link in bio tool and widely thought to be user-friendly, and easy to use for adding links to Instagram bio. Once you create the landing page, you can link it to your Instagram, TikTok, Twitter, Facebook, YouTube profiles, and drive traffic from these channels to your website and contents.
Additionally, Campsite integrate with Canva, which is enough to customize images.
Key Features:
Customize your website page and link store with colors, logos, and font styles, to match your branding.
Free to change your linktree username or url.
For multiple accounts to use.
Access analytics for a daily breakdown of clicks, as well as other user activities.
Pricing:
Free plan: random domain URL, unlimited links, one Campsite profile, pre-made themes
Pro plan: $7/month: 3+ Campsite profiles, hide Campsite branding, custom domain, weekly insight email, forms, feed, etc.
5. Linkin.Bio by Later – the best Linktree alternative for Instagram bio and Shopify store owners

Linkin.Bio, a link in bio tool created by powerful Ins tool Later, has enough in its toolbox to challenge Linktree. Sharing unlimited links and creating a mini website landing page is just the start: Linkin.Bio enables your page to tag links to individual Instagram posts, making each of your Instagram post linkable and shoppable.
Besides that, Linkin.Bio integrates with Shopify, and allow users to add shoppable posts from their Shopify store.
Key features:
Turn your Instagram posts into clickable, shoppable links.
Up to 5 links for each Instagram post / Shopify products.
Integrate with Shopify and Google Analytics UTM for link tracking and sales measure.
Pricing:
Free version: for 10 posts on each social profile.
Starter version: $12.5/month for 60 posts.
Growth version: $25/month for 150 posts and three users available.
Advanced version: $40/month for unlimited posts and six users available.
6. Carrd – a cheaper Linktree alternative for building one-page websites

Many creators and brand marketers prefer bio link tool as a page builder. If you fall into this category and want an IG tool to create your personal profile or store landing page, it doesn't get any better than Carrd. It creates a landing page to combine all your links and capture emails in a beautiful way.
Compared to Linktree, Carrd has a more versatile free version, just like Linkr.
Key features:
Stylish website templates for creating profile, landing page, forms, portfolio, and other pages.
One link in bio to display your products, services, articles, apps for fans.
Pricing:
Free version: each account can create up to three sites, and use core features of the tool.
Pro version: $19/year for exclusive features including Google Analytics, removal of Carrd brand, Widgets + Embeds, and more sites.
7. Milkshake – a free Linktree alternative for building a mini Instagram website

As with Linkr and some other best Linktree alternatives, Milkshake is a mini website builder and page creator, and can be easily used with a mobile device. Design your page with a card (template) and then customize it for a greater look. Your fans can flip through your cards just like they do on Instagram stories, and find out posts and products they're are interested.
Key Features:
Create multiple pages in one place to showcase your contents in card links.
Integrate with email and messenger features to connect with your followers
Access detailed insights for link clicks, card views, the best conversion rate, and more.
Pricing: free to use.
8. Tap Bio – the best Linktree alternative for Small Business and Influencers

Think of Tap Bio as a solution to your one link in bio issues by creating a micro landing page. One difference from most other tools, it enables your visitors to swipe left or right instead of scrolling vertical on the screen (same with Milkshake) – a great way to display your links and contents. And it's this that also makes it a great tool of Linktree alternatives.
An obvious flaw of Tap Bio is that it has limited customization options.
Key Features:
Create several linktree pages with separate cards for different contents.
Google Analytics and Facebook Pixel integration provides advanced analytics for views, plays and signups.
Pricing:
Free plan: default profile card, one additional card, one Instagram account
Silver: $5/month for three additional cards and receive stats.
Gold: $12/month for unlimited cards and up to three Instagram accounts.
9. Pallyy – the best Linktree alternative plus Instagram marketing option

If you want more from a link in bio tool, you may consider Pallyy with a complete Instagram marketing toolkit. After you create a landing page for Instagram bio filled with all links and your contents, you can measure advanced metrics for detailed analytics.
Additionally, Pallyy can expand your Instagram bio link and schedule Instagram posts.
Key Features:
Add a linktree page to Instagram profile to increase followers and sales.
Track your Instagram bio link analytics to level up marketing strategy.
Customization features.
Pricing:
A 14-day free trial
Premium plan: $15/month for one social group
Keep reading:
Linkr vs Linktree: which is the best bio link tool?
How to add multiple links to Instagram bio: free, easy and fast
7 best link In bio Instagram tools for 2022: features & pricing