Linkr new feature: how to make a QR Code free using linkr?

Link-in-bio platform Linkr has integrated QR code generator into its service, as the company is rolling out a set of new features to allow its users to generate QR codes for FREE. With this new launch, Linkr subscribers, whether you are free subscribers or Pro subscribers, can have a new way to maximise your influence and promote your business.
The new QR code maker functionality is ideal for those who need share bio link for both online and offline business. Besides that, the QR code bridges the reality and virtuality. When your customers pull out their phones, scan your QR code, and your website or Linkr landing page pops up showing promotions, discounts, reviews, and other information. It is considered a direct marketing approach to customers.
Linkr's QR code generator is great. But what exactly is it? How does it work? How to make a QR code free using Linkr for your next marketing campaign?
Sign up Linkr and generate QR codes free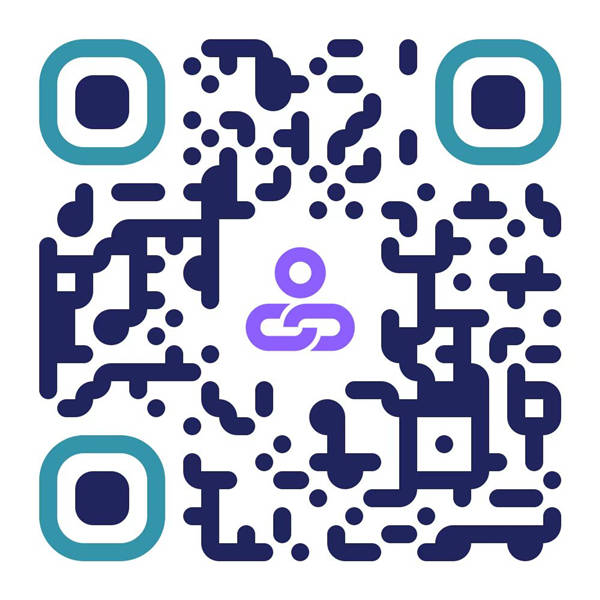 What are QR codes?
Short for QuickResponse, QR codes are quick to read and store much more information than their predecessors bar codes. QR codes can store encrypted text, URL and other types of data.
In 1994, DensoWave, a subsidiary of Toyota in Japan, invented QR code, leading the popular trend of QR codes in Japan and South Korea. Later European and American countries began to use QR codes in large numbers.
Now, all users of linkr can make QR codes for free. People scan QR codes to access Wi-Fi, and exchange business card. An advertisement, product traceability system, or anti-counterfeit traceability can also be conducted in QR code. And, we will discuss how to make QR code free using linkr Later in this article.
How do QR codes work?
Can you capture data with a QR code scan? Yes, of course.
When you scan a QR code with a mobile device, the phone obtains a unique set of binary numbers from the black squares and dots, then reads and translates into human-readable data.
So when you share your link in bio for Instagram, TikTok, or Facebook with a Linkr QR code, your audience and visitors can simply scan it and access your Linkr landing page.
People can also use a QR reader or scanner to scan QR codes. The transaction is done in seconds.
Sign up Linkr and generate QR codes free
Linkr QR code generator key features
With the QR code generator introduced to its users, Linkr brings itself to a new level. But whether you use the QR code for only sharing your link in bio or generate QR codes for business use, below are Linkr QR code generator's best features to help you. Please keep reading, we'll guide you through how to make QR code free using Linkr.
Linkr QR code maker is free! And, every user can use it to generate unlimited numbers of QR codes and download for various uses.
You can generate QR code within Linkr using desktop or mobile device. If you want to edit via Linkr app, just go to the Apple App Store or Google Play, search for Linkr, download and login.
Linkr Qr code generator supports multiple content types: Wifi, website links, business card, SMS, text, phone number, social platforms, etc.
Generate QR codes with a wide variety of creative templates to attract more scanners.
A security check will be performed before the QR code is generated.
Linkr support multi-terminal synchronization, edit the QR code anytime and anywhere.
Access the data to see how many people scan your QR code.
Share it through your friends, clients, digital and print advertising, among other means, facilitate the access.
Your audience can directly scan and access your link in bio for Instagram through a Qr code.
A short link is also provided automatically.
The QR code generator works seamlessly with other features of Linkr.
+ more custom QR code features are coming!
Check out this video on YouTube how to make a QR code free using Linkr:
How to make a QR code free using Linkr web version – easy and fast
The linkr development team want to make the QR code generator easy to use, so that you can create a QR code in one minute. They also want it each of the users to have a distinctive design to make your QR codes to meet brand or personal style.
To make a QR code using Linkr is straightforward:
Step 1, Navigate to Linkr.bio website and log into your Linkr account. Find "QR Linkr" on the L Sidebar, click on, and head over the QR Code creator.
Step 2, Paste the URL of your website. Turn on the "Trackable and Editable" button, to edit your code anytime and track the performance your QR code. You can also enter text, your E-mail, SMS, Wi-Fi, or other content to create QR codes.

Step 3, Pick your favorite template. Click "create", to generate the QR code.

Step 4, You can further customize your code to make your QR code more attractive.

Step 5, Rename your code, and download it to your pc.

How to make a QR code free using Linkr App
Step 1, Open Linkr application on your smartphone, and find "QR Linkr" is right on the bottom of your screen. Tap "+Create" or "Create Your First QR Code".
Step 2, Enter the URL of your website. Turn on the "Trackable and Editable" button, to edit your code anytime and track the performance your QR code. You can also enter text, Wi-Fi, SMS, or other content to create QR codes. Tap "Create".

Step 3, Next, slide to browse the QR code templates and pick one that meets your need. Tap "Done", and your QR code is created.

Step 4, Download to your gallery. Just make sure your Qr code is scannable before printing or sharing.
Step 5, Rename your code, and share it via Whatsapp, Snapchat, email, or social medias.

FAQ on Linkr QR code Maker
Is it safe to make QR codes using Linkr?
It is 100% safe to make QR codes on linkr. The platform dose not collect personally identifiable information, but only the user's location, the number of times the code has been scanned, and the device you use.
How do my visitors/customers scan QR code on an iphone / android?
They can simply open the Camera app on their iPhone or Android phones. Point the phone at the QR code to scan it. Tap the pop-up banner or the QR icon, and then your bio link/website/online store will be sent.
Why isn't my QR code working?
These are possible reasons that your QR code can't be scanned:
Check if it is because the screen is not bright enough, that the camera can't see and scan the QR code.
The code is not properly framed on the screen.
An Apple device can't scan QR code if it isn't running iOS 11 or later.
An Android device can't scan QR code if it isn't running Android 9 or higher..
Other issues.
You can always hit Linkr development team if your QR codes are not working because of technical problem.
How do I use a QR code to send a SMS text to someone?
You can generate a QR code using Linkr to contain a SMS message, and send it to a target phone number. The QR code SMS strategy is especially useful for SMS advertisements, growing your contact list, and mobile payment solutions.
Can people scan my QR code from a screenshot?
Yes. You can take a photo or screenshot of your QR code and share it for people to scan. But make sure the picture is clear.
Create your QR Code using Linkr Today
Now that you have known how to make QR codes free using Linkr, it's your time to create one your own! Linkr provides everything you need from a QR code generator. Follow the above steps to put your business or project in the real world with QR codes, and let more people to scan.
Keep reading:
Linkr integrations: benifits & how to use
How to use Linkr.bio Google analytics to track traffic contribution
How to use Instagram link in bio to drive traffic: 9 effective ways using free tools